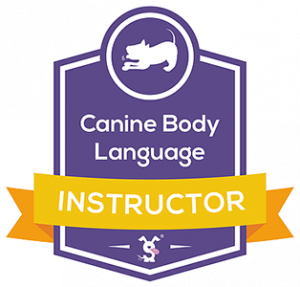 Train To Become A Licensed Dog Training College® Canine Body Language Instructor
Canine Body Language Specialist component
This online, interactive accredited advanced online course will explore Canine Body Language in a way you never have before and take a deep dive into why dogs do what they do.Your course Instructor is Dog Training College Head of Training, Leanne McWade.
This online element of your training is taught by Dog Training College Senior Instructor Toni Shelbourne. Toni will explore ways to help you become a better teaching and skills to help you deliver an incredible course
Join Dog Training College's head of Instructors Alex Wilson to learn about how to put on a kick-ass course and how to teach the course. Alex shares his tips and ticks on how to deliver an incredible Canine Body Language course in-person or on Zoom. This is taught Livestream. You MUST attend live, but it is recorded and you receive access to the recording for life.
Read the 80 page e-student manual and really understand the content of the course written by course creator Leanne McWade.
Get £297.00 worth of bonuses.
Get life time access to these incredible seminars: Dog Training College's Head of Training looks at Calming Signals and Training Death Dogs and Gail Skinner looks at building the bond with your dog. To buy these seminars individually will cost £99.00 each.
Our next Course December 5th, 10am-5pm GMT
Price £997 (payment plan available)
You will receive on-going support by joining our regular coaching calls. Alex Wilson hosts regular evening where he will discuss various topics relating to our courses and you will be able to ask questions. Topics, include, sales, marketing, advertising, social media etc.
Receive you starter pack of marketing assets, including a Canine Body Language pop-up banner, posters, flyers and an instructor T-shirt