The eponymous Tellington TTouch® Method, introduced by Linda Tellington-Jones over 50 years ago, has become the model for kind and gentle training methods for animals. Tellington-Jones is a trainer, teacher and author, recognised round the world. She has continued to develop her methods over the years, concentrating on promoting well-being with a stress free approach which instils confidence and reduces stress in subject animals.
It is a complete change from methods from the past which used force and control in training animals; the results of that often actually limited the animals' ability to comply with the demands put on them as they were adversely affected both physically and mentally.
TTouch is based on understanding and respect for the animals, reducing stress and building confidence. The training method comprises several components which are adaptable for all companion animals, large and small, as well as dogs; farm animals and exotic species can also benefit from more perceptive handling and understanding.
Our own preconceived ideas and labels seriously affect our dealings with animals and their behaviour, so one of the tenets of TTouch is "Change your mind, change your animal". Animals use behaviour as a means of communication and we have to find what triggers bad behaviour in order to improve it.
The "Attitude and Philosophy" of The Tellington TTouch® Method gives a key to this as it examines the connection between physical, mental and emotional well-being, using a variety of exercises and techniques to improve posture and balance. Animals and humans alike feel safer if their physical state is good, resulting in an increase in self-confidence. This in turn promotes better self-control, and emotional and mental balance. In this way TTouch provides the animal with a basic education that allows it to adapt easily to different situations.
Along with the "Attitude and Philosophy" of the TTouch method, "Observation and Awareness" was one of the original mottoes of the Method. Clues to the causes of particular behaviour can be discovered by careful and long visual observation of the subject animal combined with exploration with our hands. This detective work can help to understand any underlying problems or physical tensions which can affect behaviour. At the same time it is useful to observe ourselves and our own behaviours. Neither action is judgmental in any way.
TTouch, which is the basis of the Tellington TTouch® Method, is a well practised form of light circular touches and strokes which induce a state of relaxation and increased body awareness in animals and people alike.
This and other techniques of The Method are not employed like massage to manipulate the animal's muscular-skeletal system but combined with tailored movement exercises give confidence to face challenging situations; in this way animals are more able to learn in the best way possible. Just a few sessions can often sort out even the most difficult problems. The Tellington TTouch® Method, as well as offering various tools to help the process, also provides people with a wonderful means of deepening the bond they share with their furry friends.

Using TTouch affects the nervous system, controller of movement, to gently improve overall physical condition and introduce non-habitual movement. The Feldenkrais Method was the inspiration for many of the techniques used.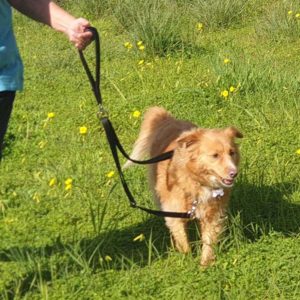 Comfortable working on lead is one of the most important aims of the Tellington TTouch® work for dogs.  A dog which is properly balanced on lead is less reactive, unlikely to pull and is able to improve its habitual posture and movement. This is turn enables the animal to work without fear or the use of force. Many of these lead work exercises are unique to the Tellington TTouch® method and result in happy, relaxed dogs on loose leads. 
The effectiveness of bodywork can be extended by improving posture with the exercises as well as change behavioural patterns associated with pain or tension. 
Many different pieces of equipment are used to help enhance an animal's balance and overall body awareness, including ground poles, varied surfaces and labyrinth.  These are used in exercises, without force or restraint, to support and encourage a functional posture and healthy way of going. Concentration and self-confidence are just two areas which improve this way. 
Another very useful tool is "Body Wraps". They sound restrictive but in fact are the opposite. Wrapping the dog in a cosy well fitting wrap appears to give comfort by activating the nervous system into awareness of where it is and often reveals habitual tensions or worries.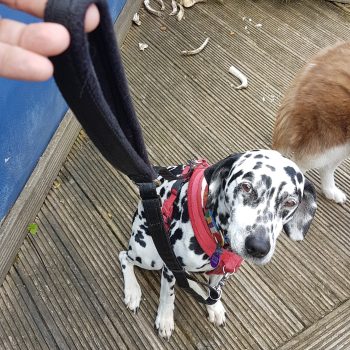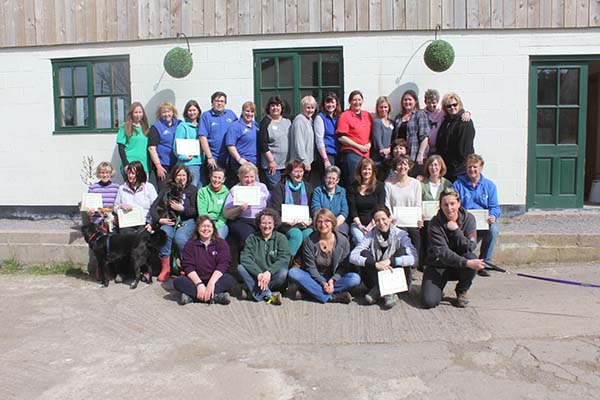 What is covered in a TTouch Training for Companion Animals?
Philosophy and principles of the Tellington TTouch® Method, as developed by Linda Tellington-Jones and Robyn Hood.
Physiology of stress and the relationship to behaviour.
Observational skill building: posture, balance, conformation, gait, and interaction with the environment using objectivity.
Skill building in the techniques of TTouch bodywork.
Use of the TTouch Tools and Equipment.
Skill building in the Tellington TTouch® Method of leading and groundwork.
Application of the Tellington TTouch® Method to specific behavioural issues.  
Strategies for successfully working with clients.
Practitioner training is offered via online/Zoom modules, along with in-person courses, once you have completed a Level One online module. Click here for more information.
How can the Tellington TTouch® Method help my dog?
TTouch, as described above, offers positive solutions to many common issues. These can be as diverse as inappropriate aggression, car sickness, separation anxiety, bad habits such as excessive vocalisation, chewing, jumping up and leash-pulling, resistance to grooming, nervousness, shyness, thunder phobia, etc.
It compliments other types of training, and can enhance performance in activities such as agility and showing. 
Who Uses Tellington TTouch®?
As well as private owners, the Tellington TTouch® Method is used by specialist animal professionals in many fields. The list includes groomers, dog walkers, trainers, animal behaviourists, shelter and rescue workers, breeders, vets, veterinary nurses and competitors in agility, obedience, tracking and many more. 
Tellington TTouch® Practitioners work with individual clients and teach one- or two- day workshops held round the country or by request. Of course, anyone who shares their life with animals can use the Tellington TTouch® Method!